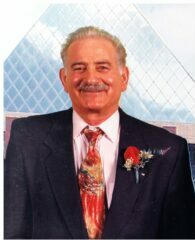 Joseph (Giuseppe) D'Andrea
October 11, 1941
-
March 15, 2022
We are celebrating the life well lived of Joseph (Giuseppe) D'Andrea who passed away peacefully.  Cherished son, brother, father, grandfather and friend passed on March 15, 2022 at the age of 80 years.
Joseph was predeceased by his parents Giovanni & Angela, brothers Eugenio & Pasquale, sisters Saletta & Rosina, Daughter in Law Carmela D'Andrea, nephew Olindo Sirianni and many more relatives and friends.
Joseph is lovingly remembered by his sisters Maria Scanga & Margherita Sirianni of Edmonton and Yolanda Cello of Italy, his children, Vittorio D'Andrea, Gianni (Mary) D'Andrea, Bonnie D'Andrea, and Grandchildren, Alessandro, Stefania, Neve, Luke, Jason & Joshua along with many relatives and friends.
He was born on October 11, 1941 in Mangone, Cosenza, Italy.  He immigrated to Canada and arrived in Montreal August 1, 1959 and little did he know that his son would be born 12 years later on this day.  The D'Andrea's settled in Edmonton, Alberta and went about the process of making a life far removed from their humble beginnings in Southern Italy.
Joseph tinkered with Vespa's, Fiat's and Lambretta's in his youth. Going so far as to race with his friends on the narrow, winding roads of southern Italy. He continued that journey by working as a mechanic in Edmonton. After marriage and having children, he knew he had to strike out on his own and "D'Andrea Auto repair" was born.
He plied his trade under his own name with a shop steps away from the old Northlands Coliseum and it was a good time to be in the auto repair business.  Joseph earned a good reputation and he did well because he worked hard day & night.  Meanwhile, he was always there for his family to help his sons deliver newspapers in the freezing cold,  taxi the boys to their hockey & soccer games & practices. In those travels, he found many cars to fix & sell while driving around Edmonton, earning the nickname "back alley Joe".  Ever determined to race again, he found that orange Datsun 510 in a back alley with visions of turning it into a racer.  He worked on it in his spare time and eventually got his racing license at the old Edmonton Raceway at Speedway Park.  He raced only a few times because a choice was made "family or racing….not both"
Joseph loved to travel and travel, he did. He went several times to Mexico, Hawaii, United States (especially Vegas) and across Canada.  He returned to his native Italy in 2015 with his son Vittorio and grandchildren Alessandro and Stefania proudly showing them the home and area he grew up in.  He worked at the City of Edmonton in his final working years and was happy to retire, though he never stopped tinkering and always offered a hand to those who asked and those in need.
We will miss your smile and your jovial ways.  You taught us the value of hard work and your persistence was always on display.  You would always make us laugh with your unique personality.  A Dear Friend described you as a silly, stubborn and beautiful man…She nailed it .  We are comforted knowing your final moments were dignified, you were not in pain and your never ending supply of P & V was on full display.  Rest In Peace and Paradise Papa, ti vogliamo bene.
A viewing will be held for family and friends to drop in and pay their respects, on Sunday March 20th between 2-4 pm at Trinity Funeral Home 10530-116 Street. Edmonton, AB.
A Celebration of Joseph's life will be held on Wednesday March 23, 2022 at Santa Maria Goretti Parish 9110 110 Ave NW Edmonton at 10:00 AM.
INTERMENT: Holy Cross Mausoleum, 14611 Mark Messier Trail NW, Edmonton, Alberta
Following the interment, the Family would like to invite you to join them for a time of food and refreshments at Santa Maria Goretti Centre (11050 90 St NW, Edmonton, AB, next to Church).