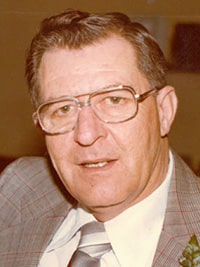 Joseph (Joe) Langevin
Joe is survived by his four sons: Denis (Yolanda), James (RoseAnne), Robert (Joan) and Gerald (Debra); ten grandchildren: Melissa (Michael) Anderson, Amanda (Chris) Jardine, Diego, Monica (Joerg) Gottschling, Louise (Ryan) Murray, Mark (Ashlee), Kathryn, Jennifer, Brian (Irene) and Janelle.
He also leaves thirteen great-grandchildren, two brothers: Aurel (Mariane) and Andrew (Brenda); one sister Simone (Robert) Holzer as well as numerous nieces and nephews.
Joe was predeceased by his grandson Carlos in 1997; seven brothers and one sister.
On behalf of the family we wish to express our gratitude for your kindness and for your attendance at this service.
Mass of Christian Burial
11:00AM Saturday March 10, 2018
St. Albert Catholic Church
7 St Vital Avenue St. Albert, AB
Interment
11:00AM Monday March 12, 2018
Holy Cross Cemetery
14611 Mark Messier Trail Edmonton, AB