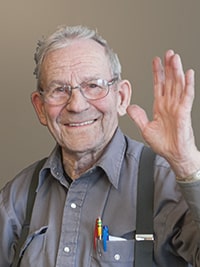 Joseph (Joe) Roy
November 9, 1926 – July 19, 2018
It is with great sadness that our family announces the passing of our beloved Joe at the age of 91 years on Thursday, July 19, 2018 after a brief illness. Although his heart gave out on him, his family will forever keep him alive in their hearts and minds. He will be dearly missed by his loving wife Jeannine, his children Lise (Jeffrey), Lynn, Richard and Gary, his nine grandchildren, Cariss (Vince), Timothy, Thomas, Carmen (Darcy), Taryn (Jason), Brittany (Kyle), Josh, Alexandre and Cecily and six great-grandchildren, Bianca, Tessa, Dawson, Hayden, Lily and Dylan. Joe was predeceased by his parents, Frank and Alphena, and his siblings, Andrée-Anna (Tina), Arthur, Omer, Laurence and Eugene.
It is not easy to sum up a well-lived life of 91 years but Joe's childhood was filled with music and hard work, and these two things came to define who he was as an adult. Born in Spirit River, Alberta, Joe moved to the farm north of Falher at the tender age of one. As the 6th child of eleven children, Joe learned the value of working hard early in life. He helped work the family farm and learned much about running, repairing, taking care of and driving farm equipment and vehicles, which is where his love of driving trucks and all things mechanical started. Joe spent over twenty years driving truck. Joe Roy Trucking hauled grain, furniture and whatever else needed transporting across Alberta, Saskatchewan and Manitoba. Moving to Edmonton in 1966 and then to Beaumont in 1980, Joe and the family started a new chapter, where he eventually worked as an equipment and vehicle mechanic for Desco Coatings which, amazingly, lasted for more than 49 years. Joe's hard work ethic kept him always busy, not fully retiring until early June at age 91.
The early farm life is also where he developed his passion for music. Old-time fiddling and dancing, especially their traditional French-Canadian "gigue" were talents shared by his whole family. It was their mutual love of music which brought him together with the love of his life, Jeannine. Wherever he could, Joe found a way to keep music alive in his life and with his family. As a fiddler, banjo and guitar player in a band with Jeannine on vocals and guitar, The Roys hit the hot spots in the dance halls of rural Alberta on many an occasion. The family also enjoyed many music sessions with his brothers' and sisters' families whenever they could get together.
Joe's marriage to Jeannine would last more than 70 years and would bring 4 children into the world. He was profoundly loved by his children and they know how much he loved them too. He proudly passed on to all of them a lasting appreciation of music in all its many forms. Joe's love for his children, grandchildren and great-grandchildren was delightful to watch as he took great joy in making them laugh with his funny faces and comic sense of humor. Joe also had a soft spot for animals of all kinds from rabbits to cats and cows to horses, but most especially for his dogs. He would always put caring for their well-being very high on his list of priorities. Joe's distinctive and vibrant personality laden with traits from his French-Canadian upbringing made him a character no one could forget. He will be greatly missed by everyone who knew him.
Many thanks to the medical staff at the Leduc Community Hospital who showed Joe such care, kindness and understanding in his last weeks.
A Celebration Of Life will be held on August 25th at 11:00 Am at Saint Vital Parish  4905-50 St Beaumont, Alberta.
Donations in memory of Joe can be made to the Alberta SPCA, 17904 118 Avenue NW, Edmonton, AB  T5S 2W3 or online to https://www.albertaspca.org/support/tribute-giving.html.