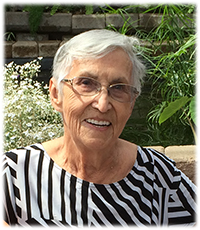 Josephine Ann "Joanne" (Radcliffe) McLaren
April 28, 1939 – October 11, 2020
On October 11, Joanne McLaren was called home to reunite with the love of her life.  Joanne leaves to carry on her memory her children Heather Rankin (Rob), James (Laura Lee Kelly), and Scott (Yuki), brother Allen Radcliffe (Loraine), sister Margo Radcliffe, and sister-in-law Shirley Radcliffe.  She also leaves to mourn nine grandchildren, Chris, Kevin and Sian Rankin, Alex, Gabe and Schyler McLaren, Maggie Mandziak, and Nina and Naomi McLaren, one great-granddaughter Ava Bryant, and many nieces and nephews, including special niece Jackie (Jason Radke). She was predeceased by her husband Lloyd "Bud", daughter-in-law Dyael Dubeta, parents Fred and Florence Radcliffe, and brother Fred "Buddy" Radcliffe.
Born in Carrot Creek, AB and raised in Peers, Joanne lived a full and rich life.  She met the love of her life in 1962 and married in 1963.  Her life was one of love, compassion and generosity.  She was the ultimate wife, mother, daughter, sister and grandmother, and was known to many as Gramma Jo. Her life centered around caring for others physically and emotionally.  No matter what challenges she faced, she met them with grace, determination, and an unflagging optimism.  She was fiercely independent, stubborn as all get out, and as strong in mind and spirit as they come.  No matter the circumstances, no word of complaint would cross her lips.  She was happiest surrounded by her grandchildren, celebrating their achievements, or enjoying a good meal at her favourite restaurant.  She was always up for a party, so long as it didn't conflict with the Oilers' playoffs or involve black forest cake! She touched many lives, and her beautiful smile helped her make friends in every circumstance.
We would like to the Renal Dialysis Unit 5C2 at the UofA Hospital for the excellent and compassionate care they provided to Joanne over the past 6 years. We would also like to thank Rev. John Burrill, Dr. Donald Wilson and Dr Ken Stewart, as well as Sat Pal, Kamala and the Palliative Unit of the Community Care Access Team for the excellent care in her final days.
A celebration of Joanne's life will be planned for a later date.  In lieu of flowers, please consider a donation to The Stollery Children's Hospital Foundation.