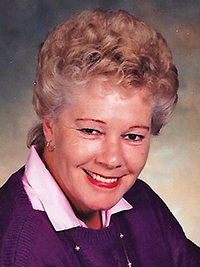 June Sylvia Edney
It is with profound sadness and much love we say goodbye to June Sylvia Edney at the age of 88 years. The heart of our family, she leaves behind a legacy of resilience and strength far greater than her physical stature. She was truly our angel on earth who left us a wealth of love; we are all blessed for having her as a wife, mother, grandmother and great grandmother.
June is survived by her loving husband of 69 years, Lloyd, daughters Janet and Terry (Joel), daughter-in-law Debbie, four grandchildren Charlene (Darryl), Ashley (Ryan), Shaun (Mia), Kaytie (Byron), great-grandchildren Nicholas and Brookelynn, Jayce and Deaken, sisters Joyce and Penny and niece Junie (Rod). She will also be lovingly remembered by her extended family and dear friends.
She was predeceased by her parents Clement and Eva Blampied, son Kenneth and grandson Kyle.
June and her twin sister Joyce were born in Saskatoon, SK on June 8, 1931 and she spent her childhood there, where she graduated from Bedford Road Collegiate.
She met her future husband Lloyd on a blind date in December of 1949 and they were married in June of 1950. Their two daughters were born in Saskatoon, Janet in 1954 and Terry in 1956. The family moved to Edmonton, AB in September of 1956, where Lloyd was employed at the Edmonton Journal. Their son Kenneth was born there in 1957. The following years were filled with many activities, including participating on the Dovercourt Community League executive and building a weekend retreat at Lac La Nonne. Many happy memories were created there. In 1972, June and her husband purchased a farm in Thorhild County. They commuted from Edmonton until 1989 when Lloyd retired, and commenced full time life in the country. While living there, June was active on the Thorhild Library Board and also enjoyed activities with the Thorhild Craft Club. June had a great interest in nature and enjoyed the abundance of wildlife and birds at the feeders while living at the farm. The many family gatherings for birthdays and special occasions gave her great joy. In 1994 she endured a major heart attack and the subsequent open heart surgery. It was 2006 when a tumour was removed from her lower jaw and that was followed by two more major corrective surgeries. She had many radiation treatments which destroyed remaining cancer cells but left her with much pain and discomfort in her mouth and tongue. The procedure allowed her family and friends to enjoy her feisty sense of humour, kindness, generosity and love for almost another 14 years before she succumbed to severe pneumonia. June passed away peacefully on March 28 with her husband and two daughters by her side.
Celebration of Life
June's life and love will be celebrated in a private family gathering at a later date.
Memorial Donations
In lieu of flowers, kindly donate in June's memory to the University Hospital Foundation designated to the ENT Department of Oncology.