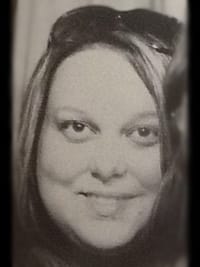 Karen Lynn Fiore
1984 -2020
It is with deep sadness and broken hearts that we the family of the late Karen Lynn Fiore, age 35, announce her passing on April 20, 2020 at Royal Alexandra Hospital in Edmonton, Alberta.
Born in Glace Bay, NS on June 1, 1984, she was the daughter of Craig and Paulette (MacDonald) Fiore. Karen Lynn worked as a Pharmacy Technician at the Wal-Mart, Spar Road Sydney, NS before moving to Edmonton 6 months ago where she continued her career working for RPI Consulting Group. She enjoyed Baking, Travelling, and long Drives among lots of other stuff. She also really enjoyed sitting in her rocking chair watching the Toronto Maple Leafs with her Dad.
Karen Lynn will be sadly missed by her parents, partner Morgan Waites, very special brother and sister in law Melvin and Sonia Somerton, sister Sherry MacKinnon, nieces Alyssa, Sianna, Amayah Somerton and Mikayla Plouffe, special aunts, Lynn MacDonald and Karen Fiore, Grandfather Nelson (Mary) MacDonald and very special friend who was more of a sister for 30 years, Erin Peach. She will also leave behind many sad uncles, aunts, cousins, friends and her three fur-babies, Toby, Asia and Gage whom she loved so dearly.
She was predeceased by her Grandparents Louis and Carmella (MacLeod) Fiore, Grandmother Helen (Budge) MacDonald.
Cremation will take place at Trinity Funeral Home in Edmonton, Alberta. A private family burial will take place at a later date.
Those who wish to make a donation in Karen Lynn's memory are asked to consider the Heart and Stroke foundation or the SPCA.
We also would like to thank all of the staff at The Royal Alexandra Hospital and the EMS staff for all of their efforts and support as well as Trinity Funeral Home during this sad time.
To send online condolences, go to: www.trinityfuneralhome.ca
To Those Whom I Love & Those Who Love Me
When I'm gone, release me, let me go:
I have so many things to see and do.
Don't tie yourself to me with tears.
Be happy that we had so many years.
I gave you love.
You can only guess how much
You gave me in happiness.
I thank you for your love you each have shown.
But it is time I travel alone.
So grieve awhile for me, grieve you must:
Then let your grief be comforted by trust.
It's only for a little while we must part.
So bless the memories within your heart.
I won't be far away, for life goes on.
So if you need me, call and I'll come.
Though you can't see or touch me, I'll be near.
If you listen with your heart, you'll hear
All my love around you soft and clear.
And then when you must come this way alone,
I will greet you with a smile and a
"Welcome Home"