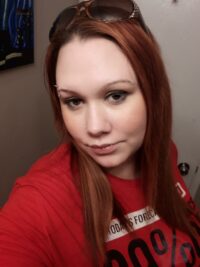 Kassandra Louise Krook
November 4, 1989
-
April 19, 2021
It is with great sorrow and sadness that our family announces the unexpected and sudden passing of ​Kassandra (Kassie) Louise Krook April 19th,2021 at the age of 31. She was a beloved mother of 2, and a daughter, sister, aunt and friend to all that knew her.
She is survived by her 2 children, Jayden Krook, and her daughter Ayla Krook, as well as her father Michael Kuzminski, her sister Eleanor Kuzminski, her brother Carl Kuzminski, her brother Graham Kuzminski, and her nephew Damian Kuzminski. She was predeceased by her brother William Frederick Kuzminski, as well as her mother Alanna Mary Krook.
Kassie grew up with a zest for life, and always had love in her heart for everyone she knew. She would open her door to anyone that needed a break from life's travails or just needed somewhere to go. Kassie will always be loved and remembered for her love of her family and her kind, giving personality. She was an amazing cook, and could make a wonderful meal from nothing at all, and make it fit for royalty. She will always be loved, and missed terribly. For every day, and the rest of days, she will be loved greatly, and missed terribly.
Due to current circumstances, the family plans a private memorial with immediate family only.