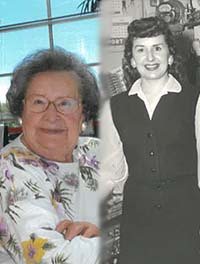 Katheryn Androic
August 24, 1930
-
September 3, 2021
It is with heavy hearts and deep sadness that we share the sudden passing of our beloved Mother, Grandmother, and Great Grandmother.
Katheryn was born in Edmonton, Alberta as the first born of a family of seven children to parents Nick and Mary Danyluk.
She will be deeply missed and never to be forgotten by her son Danny (Judy Abel), Grandchildren Lindsay Ray (Dave) Zukowsky and Blain (Kalyn) Abel, her cherished and much loved little ones Great Grandchildren Nash, Piper, and Monoe; In Zagreb, Croatia; Step Daughter Vensa, Granddaughters Ann Sanaja, Great Granddaughters Elena and Lana; Sisters Rose Renee (Maine) and Darlene (Edmonton), Brothers Victor (Shirley Mae, Ardrossan, AB), Nicholas (Shirley, Sorento, BC), and many cherished nieces, nephews, cousins, and very close friends.
She was predeceased by her parents Nick and Mary, Brothers Raymond and Michael, and Husband Branko.
Mother's places of work first started at the Pipe Shop on Jasper Avenue across from Mikes News Stand, a very popular place, especially the Coca Cola cooler where I would sit and read comic books in the 1950s era. She also worked at Loveseth Motors and Imperial Oil. At 25 years of age she began to take piano lessons and later achieved her teaching certification from the Royal Conservatory of Music in Toronto, which allowed her to begin teaching many students. She also took seamstress lessons to make her incredible Klondike Days apparel. The gals at Imperial Oil were all very passionate about that event. Being the tiger that she was she took painting lessons and low and behold came some great paintings that will be cherished through the years and passed on. She found time to do all of this while still being a mother and an incredible wife. Mother's cooking was, well, the best! Her talents were exceptional.
We love you and will miss your patented giggle. Rest in Peace, Little One. Rest in Peace.
We would like to take this time to thank all the caregivers at Eaux Claires.
There will be a private family gathering at a later date because of the current pandemic.