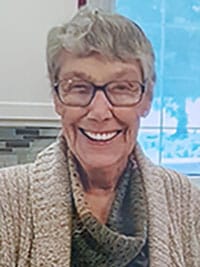 Kathleen (Kay) Freda Powell
October 11, 1927 – February 8, 2019
Kay was born in Kirkella, Manitoba then moved to Manson and Winnipeg, Manitoba with her parents and brothers and sisters.
At 17, she made the move to Vancouver, BC, where she started work with BC Tel. Kay met and fell in love with Bryce Powell in the early 50's and started their life together in Langley, BC. Kay and Bryce raised their 5 children there until 1972 when their love of travel took the whole family to New Zealand to start a new adventure. In the early 80's, everyone returned to Canada and settled in many areas around BC and Alberta. Kay and Bryce lived in Langley, Blind Bay, Airdrie and finally Edmonton. Kay's greatest joys were her family, friends, camping, fishing, playing cards and baking.
Kay leaves behind her husband of 66 years, Bryce, her children Steve (Robyn) of Auckland, NZ, Judy (Laurie) of Terrace, BC, Shirley (Robert) of Hamilton, NZ, Joan (Brian) of Edmonton, AB and Carol (Adrian) of Airdrie, AB, 11 grandchildren, Lynda, Lesley, Bryce, Jeff, Nicole, Greg, Tracy, Kevin, Courtney, Jason and Darren, 8 great-grandchildren with 1 on the way as well as her sister Betty in Winnipeg and brother Bill in Albany, New York and many nieces and nephews.
Kay is predeceased by her parents Robert and Freda Burns, brother Jim and sister Mary as well as grandson Michael and grandson-in-law Konrad, both of NZ.
Kay will always be remembered as a loving wife, a wonderful Mom, a Nana and Great Nana, who loved to spoil the little ones, puppies included. Kay raised her family to understand the meaning of strength, hard work and resilience with her "never give up attitude" which will always be an inspiration to us all.
Kay's health had deteriorated over the last couple of years, yet she fought hard to the end. Her spirit was so willing to stay, but her body said no, time to rest.
We will always love and miss her.
A Celebration of Kay's Life will be held in Edmonton in the summer of 2019.
In lieu of flowers, a donation to your local Ronald McDonald House, a charity close to Kay's heart, would be greatly appreciated.