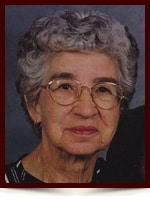 Kay Arthur
August 18, 1929 - December 11, 2011
Surrounded by her loving family, Kay Arthur passed away peacefully on
December 11, 2011 at the age of 82 years.
Left to cherish her memory is her loving husband of 52 years Norman; three children: Rick (Nathene), Rob (Elaine) and Brenda (Tony) Arruda; seven grandchildren, one great-grandson; her sister Mary Leonty (Walter Tymchuk) as well as other relatives and many dear friends. She was predeceased by her parents Mike and Mary Kachuk, and three brothers Sandy, George and Bill.
Mass of Christian Burial
11:00AM Friday December 16, 2011
St. Clare Catholic Church 6310-118 Avenue
Memorial Donations
Heart & Stroke Foundation of Alberta
10985 124 Street NW Edmonton, AB T5M 0H9