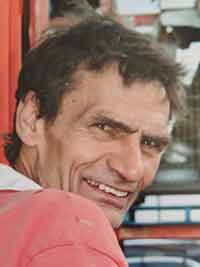 Keith William Hayne
Keith William Hayne (Honest Keith), 70, of Edmonton, Alberta passed away unexpectedly on Wednesday, April 17, 2019.
Honest Keith is survived by his loving wife of 46 years, Fat Barb; his three children, Little Keith and his old lady Kirsten, Robbie and his old lady Lori, Sheena (Blondie) and her other half Jordan; seven grandchildren (his pride and joy), Taylor, Jordanna, Makenzie, Myles, Colby, Calvin, and Kacey; his two brothers, Bob and Gary; his baby sister Marlene (Boomer) and her husband DJ, many loving nieces, nephews, relatives, and so many dear, dear friends that he considered family (you know who you are). He was preceded by his father, Dirty Ernie, his beloved mother, Avy, and his sister, Cheryl.
If you only knew these 3 things about Keith, you would know enough...
- He cherished the time he got to spend with his loved ones; whether it was watching his grandkids ride quads at the Limberdick Ranch (his favourite camping spot), telling his grandkids tall tales while sitting on his front step eating popsicles, or shooting the sh#t while sitting around the table with his friends, it was when he was surrounded by his friends and family that you could see his honest, golden heart shine right through his giant, sh#t-eating grin.
- He spent his free time watching any sport he could find on TV; he had to… he knew it was going to be the hot topic around the boardroom table in the morning. While he was always up for talking any sport, hockey was his favourite; no doubt it brought him back to the early days of coaching Keith, Rob and all their degenerate friends, and then the later days of cheering those same degenerates on from the stands.
- Keith was always trying to buy low and sell high; whether it was a great Kijiji deal, a cheap car, a rookie Gretzky card, or a priceless M&M or Coca-Cola "artifact", Keith would usually end up buying low, loving it with all his heart, and then not selling at all because he would end up giving it away. If he loved you, he would give you the shirt off his back, if he only liked you, he'd give you the shirt off his back, if he thought you were full of sh#t but needed it more than him, he'd still give you the shirt off his back.
He was as unique as they come: a one-of-a-kind, tell-it-like-it-is diamond in the rough. There will never be another person like him.
They say you can tell everything about a person by the way they treat children and the elderly… If you knew him, then I don't need to say anymore.
He will be loved forever. Forever and ever, amen.
Celebration of Life
3:00 PM Friday May 3rd, 2019
Dovercourt Community Hall
13510 Dovercourt Avenue Edmonton, AB
In lieu of flowers, donations can be made to the Stollery Children's Hospital