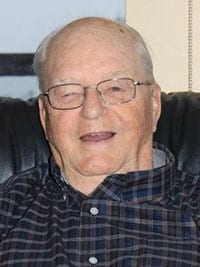 Ken Cross
It is with great sadness that we announce the passing of our father, grandfather and great-grandfather, Ken Cross, on January 29, 2021, at the age of 96 years. Ken will be lovingly remembered by his children Laurin (Diane), Karen (Terry), Deanna (Hank) and Leah; grandchildren Kris, Michael, Daniel, David, Marc, Adam, Andrea, Alexandra and Caitlin; 13 great grandchildren; sister Betty and sisters-in-law Irene and Ruth.
Ken is predeceased by his loving wife Stella of almost 70 years, his parents Violet and Harry, and brother Gordon.
Ken was born in Consort, Alberta on May 6, 1924. His family farmed in different locations throughout southern Alberta for many years, where he enjoyed working with the animals and assisting the family with all types of farm chores.
Ken met his wife, Stella, in 1948, and they married on May 26, 1950, in Calgary. He joined the RCAF in 1949, spending much of his career as an Airframe Technician in Claresholm, Alberta, Winnipeg, Manitoba and Trenton, Ontario. Ken and Stella's lives were blessed with the births of their children Laurin in 1951, Karen in 1952 and Deanna in 1953. The Cross family moved to Winnipeg, Manitoba and then to Belleville, Ontario in 1958 where Ken was stationed. They moved to Edmonton, Alberta in 1968 with Ken's last posting there. Ken retired from the military in Edmonton in 1970. Ken and Stella's fourth child, Leah, was born in 1969. His first job after retiring from the military was being the owner and operator of a diner in Edmonton for a short time. Ken then worked at Norwood Extended Care in the maintenance department until he retired in 1989, at the age of 65.
Ken enjoyed gardening and tending to his roses, working with small engines, riding his bike, volunteering his time driving the combine on a family farm, visiting family and friends and travelling. Ken and Stella took bus tours into the United States, Europe, Asia and the Middle East, and went on several cruises. They visited many different countries and experienced numerous cultures and cuisine.
Ken will be remembered for his kindness and genuine caring, a listening ear, the ability to fix anything, and his love of his family above all. He touched the lives of many people, and he will be missed and loved for eternity.
In lieu of flowers, please consider making donations to the Canadian Cancer Society https://support.cancer.ca/site/Donation.
Covid-19 restrictions limit the funeral to immediate family only. A Private Funeral will be celebrated on Saturday, February 20, 2021 at 2:00PM. A livestream of the Funeral will be available to view at https://youtu.be/Vqqp4iop9pc