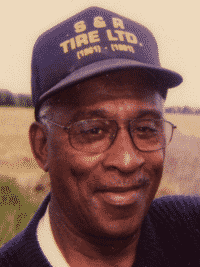 Kenneth Edwards
September 17, 1918 – December 26, 2019
Your Presence is Missed. Your Memories We Treasure.
Loving You Always.  Forgetting You Never.
On December 26, at the grand age of 101 years, Kenneth Louis Edwards passed away peacefully at the Edmonton General Continuing Care Centre in Edmonton, Alberta.  He leaves to cherish his memories his loving wife of 69 years, Joyce; five sons Davis (Ardith), Leon, Lenny, Jerry (Rita), and Terry (Kristy); and one brother Elmer (Edith).  Also mourning his loss are twelve grandchildren; Curtis, Tara, Shawna, Tyler, Kyle, Danielle, Travis, Raleigh, Kennedy, Miles, Ty and Jaxson; sixteen great-grandchildren; and many nieces, nephews, extended family, and good friends.
Kenneth was predeceased in death by his son Dean; parents Jefferson and Martha Edwards; three sisters Dorothy, Valsper and Ralph; and six brothers Romeo, Jefferson, Alonzo, Joy, Arnold and Booker.
Kenneth was a proud farmer who worked his farmland in Amber Valley for 52 years.  In 2002 Kenneth and Joyce moved to Edmonton to enjoy their retirement years closer to their grown children and growing family.  He loved baseball and enjoyed curling, bowling, and playing a good game of pool and Pinochle with friends. Kenneth was known as a community-minded neighbor who never hesitated to offer his time and assistance to those in need, and a generous host who welcomed an abundance of friends and family to his kitchen table. 
Memorial Service
1:00 p.m. on Saturday, January 11, 2020
North Pointe Community Church, South Auditorium (via the South parking lot)
14025–167 Avenue
Edmonton, AB