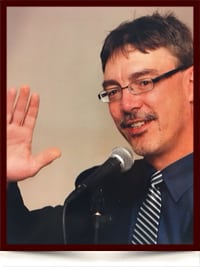 Kevan F. Uhrum
November 29, 1969 - January 3, 2018
It is with great sadness that we announce that Kevan F. Uhrum passed away on Wednesday January 3rd, 2018 at the age of 48 years.  He succumbed to his long battle after a lengthy illness and left this world for a place with no pain.
Kevan will be fondly remembered for so many things.  He loved the outdoors and spent countless hours fishing, was a voracious reader and a deep thinker, he was known for his dry humor and how he spoke his mind without prejudice, and he always had a twinkle in his eye when he smiled.
He will be sadly missed by his mother Laura Uhrum, sisters Jacqueline Uhrum and Deborah Wawrzynkiewicz; his children Heather Rendell, Aaren AuCoin, Laura-Lee Loyie-Munro and Corrina Croswell; his nieces Patricia Helgason (Wade) and Jacqueline Wawrzynkiewicz; great nephews and niece, Damon, Riley and Hailey and all of his many friends that have been a part of his life.  Kevan was predeceased by his father Robert Uhrum.
A Celebration of Kevan's life will be held at 2:30 on Thursday January 11th at Trinity Funeral Home, 10530 - 116 Street, Edmonton.
Those who so desire may make memorial donations to: Our House Addiction Recovery Center, 22210 Stoney Plain Road, Edmonton, AB. T5S 2C3 or directly on their webpage at ourhouseedmonton.com