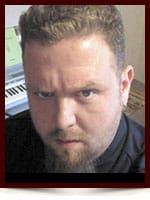 Kurt Reichennek
 Kurt Reichennek, age 30, passed away suddenly in his home on February 19th, he is survived by his brothers: Brian,James and Lucas, as well as his mother Sylvia. Details of a service will be announced shorty.
You left a mark on everyones life that was lucky enough to have you in it, and will be missed by us all. No one will ever replace you in my heart, and I hope you've found some peace.
Goodnight Brother, you will be missed.