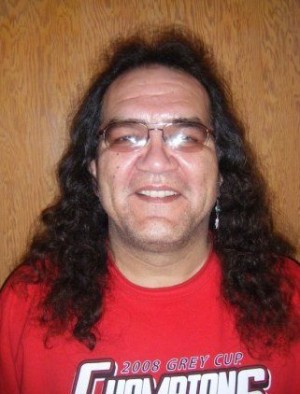 L. James Dempsey
September 20, 1958
-
April 15, 2022
It is with profound sadness we announce the passing of Dr. L. James Dempsey (Kii'tsimoni) on April 15, 2022. In celebration of James's life, his legacy and memory will live through his son Spencer (Patricia) Sumner; his parents Hugh and Pauline Dempsey; his sisters Louise (Joe) Dempsey and Leah (Shane) Koski; his brother John (Ronna) Dempsey; his aunty Doreen (John) Garvey; his long-time love Betty Karpinski and her two boys Paul and Aaron that James cared for like his own children. James was predeceased by his sister Lois Dempsey.
As a member of the Blood Tribe, James can best be described as an educator, collector, musician, leader, classic car enthusiast and lover of everything sports. These traits were at the core of his friendships and interests. He was one of those rare people that turned his passion into a career and then followed that path with great happiness and success right to the end. James left nothing on the table and was able to fulfill all his dreams and goals.
James attended the Universities of Alberta and Calgary where he obtained his Bachelor of Arts in 1985 and Master of Arts in 1987. He came to the University of Alberta in 1992 as the new Director of the then School of Native Studies. Previously, he was the Acting Dean for the Saskatoon Campus of the Saskatchewan Indian Federated College (now First Nations University of Canada). In 2001 he received his PhD from the University of East Anglia in Norwich, England. He was also on the Board of Governors at the Royal Military College of Canada. James had influences over all that knew him, but it was the job he had from 1998 and onward as Associate Professor of Native Studies at the University of Alberta that would forever impact and change the lives of all those who had the pleasure of being taught by him. The courses he taught in general Indigenous history, history of Indigenous peoples in western Canada, the Indian Act, and land claims informed and influenced generations of people that would go on to make real differences in the lives of Indigenous people across the country.
From his early days, James had a strong interest in the social, economic and political impacts of war. He combined that interest with his involvement in the Indigenous and academic communities to create an important learning opportunity as he had several of his works published, including "Warriors of the King, Prairie Indians in World War I" and "Blackfoot War Art: Pictographs of the Reservation Period, 1880 to 2000". James has written extensively on Indigenous history and culture for over twenty five years.
James comes from a very large extended family and relatives, which include the families of the Gladstones, Healys, Heavy Runners, Tailfeathers and Foxes. A Celebration of Life will be planned around James' favorite event – the Calgary Stampede. Announcements will be posted soon so that all who knew him cam come together and talk, laugh and share our stories and memories of James. In lieu of flowers please consider a donation in honor and in memory of James to the Edmonton Humane Society or Alberta Cancer Foundation.