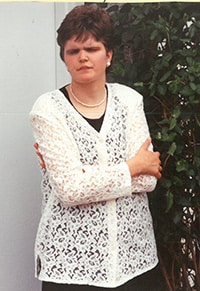 Lana Marie Kapustinski
May 2, 1974 - February 8, 2020
It is with profound sadness that we announce the passing of Lana Marie Kapustinski on February 8, 2020 at the age of 45 years with her loving family by her side.
She will be forever remembered by her mom Kate, dad Norm, brothers Jim, Lyle (Kveta), Norman (Judy), Godparents Annie and Ron as well as her kitties Mali and Cali.
Predeceased by her brother Dale and other beloved family.
Special heartfelt thanks to all those who enriched Lana's life and well being: family, neighbours, friends, teachers, service/program providers, staff and support staff/workers, caregivers, medical and clergy teams, her special pets, acquaintances as well as all of her McDonalds staff and friends.
Special thanks to PDD & ICE, Lana's service and program provider staff and support staff for 20 plus years. Thanks to all her support workers over the past years, especially Charlotte (Mamma) for her 12 plus years of devotion to Lana's care.
Sincerest thanks to Dr. Gary Samycia for his lifelong care, support and understanding since 1983, Dr. Hruczkowski her cardiologist, EMS units, Royal Alex ICU staff for there exceptional and compassionate care.
Funeral Service will be held on Friday February 21, 2020, 10:00AM at Trinity Funeral Home 10530 116 Street, with interment to follow in Evergreen Cemetery 16204 Fort Road, Edmonton
In lieu of flowers donations may be made in Lana's memory to the Mazankowski Heart institute or the Edmonton Humane Society.