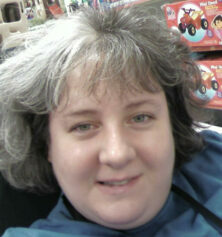 Larissa Jane Kathryn Cartledge
August 26, 2021
-
September 11, 1971
It is with deep, deep sorrow that we announce the loss of our beloved daughter and sister, Larissa Jane Kathryn Cartledge, on August 26, 2021.
Her bubbly, caring spirit has been released from the pain and suffering she has endured in recent years. Her open, compassionate nature made her a ready and steady friend, charming others on short or long acquaintance. Larissa's laughter and passion for fostering supportive relationships will be sorely missed.
Larissa was born on September 11, 1971 at the Misericordia hospital in Edmonton, and is survived by mom Julia and brother Stefan, uncle Dave Cartledge, aunt Delores Lazo, and many more relatives and friends.
She was predeceased by her father Harold Alan, grandparents Dmytro and Kathryn Karapinka and Harold Leonard and Janet Cartledge, uncles Lloyd Cartledge, Joe and Merv Karapinka, aunt Anne Goodwin and pet 'terrier'ists Corki and Benji.
Reflections and memories will be shared at a celebration of her life, on a future date. In lieu of flowers, you may consider a donation to the ALS Society of Alberta to sponsor research into PLS.