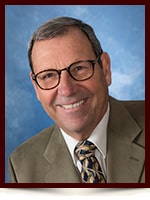 Larry Alan Ethier
It is with great sadness that the family of Larry Alan Ethier announces his sudden passing in Edmonton on Monday, April 10th at the age of 69.
Larry was born on February 20th, 1948 in Edmonton to Leo and Verna Ethier and is survived by his loving brother Randy (Clea). He married Deborah Charter in 1971 and they shared 46 wonderful years together. They have three children – Melanie (Chris), Neil (Sara) and Lucas (Devon). Larry is adored by his seven grandchildren – Cade, Brooke, Thomas, Nixon, Charlie, Avy Jane and Maeve. The love that Larry shared with Deb and his family is an inspiration to all.
Larry was a passionate, innovative, and influential teacher, volleyball coach, and school administrator. Through his work he made a positive impact upon so many people around the world: Edmonton, Wetaskiwin, Osaka, Taipei, Nairobi, Burkina Faso, Dubai, and Ho Chi Minh City. Larry was deeply respected and will be remembered as an empathetic, fun-loving, wise, and honest man who had a genuine interest in, and immediate effect upon, everyone he met.
Everyone is welcome to attend and celebrate Larry and the incredible impact he has had on everyone he touched. As a volleyball coach, educator, and avid sports fan, Larry had a passion for sport and strongly believed in its positive impact on kids and life.
Celebration of Life
1:00PM Tuesday April 18, 2017
North Pointe Community Church
14025 167 Ave NW, Edmonton, AB T6V 1J5
Memorial Donations
Online at KidsSport or by cheque to:
KidSport Edmonton
2-226 Saville Community Sports Centre
11610-65 Avenue Edmonton, Alberta T6G 2E1