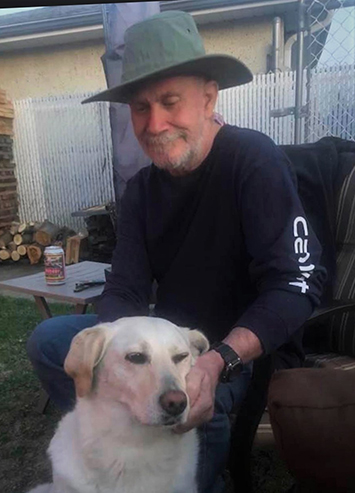 Larry Pituka
On the afternoon of September 13, 2020 Larry Pituka of Edmonton and Tuktoyaktuk passed at the age of 62. He is predeceased by his parents Ross, and Nora, as well as older brother Dan.
Larry was an accomplished carpenter, if you could draw a blueprint he would build it. Even if the blueprint wasn't particularly good or grounded in a respect for the ways in which things should be built, he'd still build it.  As well, he was a pop culture enthusiast- if it was released on DVD or Blu-Ray chances are he had seen it at least once. His tastes ran from Kung Fu Hustle to Star Wars and Studio Ghibli.
Growing up my Dad was more cryptid, than real. He spent the majority of my life (from childhood to adulthood) working up North, only coming down a few times a year. If it was a good year, he would appear between when the lilacs bloomed and K-Days. If things were busy, we'd be lucky to see him for a birthday and Christmas.
Among my family, my cousins heard stories from their parents about my Dad's exploits: travelling to Australia, and other nefarious stories about the trouble he would get into in the States. However, like a creature from folklore he survived with minor consequences- waking up in a farmer's field in Montana, or when he visited Las Vegas for the first time and he was absolutely certain greyhound racing involved a bus and not a skinny dog.
My Dad loved the Arctic. It was the furthest away he could run and still be within a day's flying distance. He left thousands of pictures he had taken over the course of the last ten years for us to go through. It was actually something that brought us closer together for a few months while I completed my undergrad. I was taking a course: the North, and I mentioned my Dad worked up there, so of course my classmates wanted to see the animals. My dad responded with arctic foxes, caribou, musk ox, and some beautiful landscapes of mountains.
Larry is survived by his children Kayla and Kyle, his grandchildren Delilah and Aliy, his older sister Rebecca, as well many cousins, and his ex-wife Sandi. And many, many friends. There are so many of you out there, and I'm glad we were all able to be a part of my Dad's life.
We would also like to extend a thanks to Dr. Daisy Fung, the nurses at the Cross Cancer Institute, and the owner of Mars & Venus on Whyte Ave for going above and beyond. You all helped us during a particularly hard time and we are grateful.
A memorial is tentatively in the works for the end of the summer. Depending on the weather, and research on how to perform a miniature viking funeral, a date will be solidified in weeks to come.