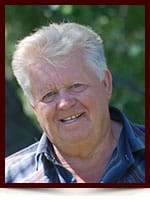 April 21, 1942 - May 29, 2016
On May 29, 2016 Larry Wayne Babcock of Fox Creek, Alberta passed away at the age of 74 years. Larry leaves to mourn: his love Maggie of 30 plus years; his children: Brian (Jane) Babcock, Cameron Babcock both of Ontario; his step children: Bud (Sharon) Taylor of Alberta, Shelley (Dan) Alexy and Hall Taylor of British Columbia; his siblings: Glen (Ruth) Babcock, Don (Lila) Babcock and Marilyn (Murray) Wright, all of Ontario; his grandchildren: Justin, Dustin, Jan Andrew, Mark Jackie, Chris, Jenny and Taylor, as well as many nieces and nephews and many dear friends. Larry was pre deceased by his parents, Leslie and Eva, brother Gordon and step son Scott.
Larry was a hard worker as a butcher, beekeeper, working in the oil patch, driving truck, a Jack of all trades- master of many. Larry loved to travel with Maggie where they spent many winters in Arizona. Larry was a kind soul always willing to help a friend in need, he enjoyed spending time at the farm, going for coffee with his buds, going for drives and enjoying time with his grandchildren.
A Celebration of Larry's life will be held Friday July 22nd, 2016 1-3pm at the Fox Creek Community Hall in Fox Creek, AB