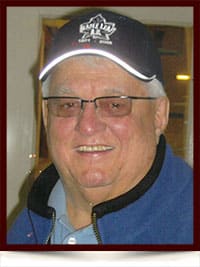 Lawrence Jacobs (Larry – Jake)
May 13, 1940 – August 3, 2017
Lawrence Jacobs (Larry – Jake) passed away on Thursday August 3, 2017 at the age of 77. He is survived by his wife Judy (Zotek), two daughters, Cheryl (Eugene) Petruk, Colleen Jacobs, two grandsons, Stephen (Anastasiya) and Mathew Petruk, sister Victoria Shapka, nephew, Lawrence (Linda) Shapka, Darren (Abbey) & Daniel Shapka, sister in law Lillian Ward, special friends Sharon and Dale Mulek, Clay Kolstad and special companion Gudzik. He was predeceased by his parents Joseph Jacobs and Annie (Warwa), brothers in law George Shapka and Jim Zotek and father in law Peter Zotek.
Jake was born in Willingdon, Alberta, attended school in Beverly, Eastglen Composite High School & NAIT. He was a dedicated employee of Ed Tel for 35 years and had the privilege of developing his career into the management ranks. He enjoyed many aspects of volunteerism which was evident in his lifelong dedication to the Maple Leaf Athletic Club as a hockey coach and Alumni life member.
He was appointed as a member of the Board of Governors for NAIT and was honoured to have had his son in law and grandsons also as NAIT graduates. Lawrence became a charter member of the Al Shamal Shriners and was an active member of the Greeters Unit. He was also involved with the North East Zone, the Beverly Heights Community League and the Hockey Edmonton Alumni and Northlands. As a coach he was proud that his influence assisted these young men in achieving their life goals.
Thank you to everyone who reached out by personal visits or phone calls to Jake. It brought joy to him to reflect on friendships and memories.
A Celebration of Life will be held on Sunday August 13, 2017 at 2:00 pm at the Beverly Heights Community Hall 4209 – 111 Avenue.
To honor Jake and his love for minor hockey we ask that you wear your favorite hockey jersey to his Celebration of Life.
In lieu of flowers memorial donations may be made to the Al Shamal Shriners Transportation (children's hospital) Unit 14511 – 142 St Edm, AB T6V 1H9 or the Maple Leaf Athletic Club Alumni 12133 67 St NW, Edm, AB T5B 1M6 for a future investment in the minor hockey program.