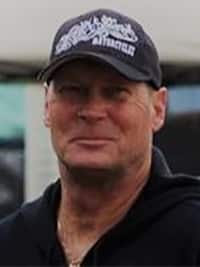 Lawrence (Larry) William Wakefield
 January 25, 1958 - February 16, 2020
It is with great sadness that the family of Lawrence (Larry) William Wakefield, known to many as Lucky, passed away from lung cancer with his family with him in his home in Stony Plain, AB.
Larry will be forever remembered by his loving wife and best friend Cori (Corinne) and his family and friends.
Cori and Larry were fortunate to travel. They were able to ride thru the Redwoods, as it was dream for them both, and enjoyed the time they spent together. Larry loved his wife and his children, stepchildren, and grandchildren. Larry enjoyed riding his motorcycles, and he also enjoyed working on cars and his motorcycles. Had a great sense of humor and enjoyed life. He was always willing to help others and be a support to many.
He is survived by his wife, his children; Alisha(Chris) Wood of Wainwright AB, Layne (Loni) Wakefield of St. Albert, AB, Richard (Janice) Wakefield of Spruce Grove, AB, Benjamin Wakefield of Victoria BC, his daughter Vanessa Kerekere Wakefield, (Chad Brenneman) of Millet, AB, his step-daughters; Christina Anderson (Lee) of Morniville, AB, Sharrine Blundell (Andrew) of Spruce Grove, AB, his sisters and brothers; Beverly Campbell (David) of Ozark, Missouri, John Wakefield (Deanna) of Slave Lake, AB, Barb (Lennis) Sjoquist of Edgerton, AB, Rick (Shannon) Wakefield of Devon, AB, Greg (Lucie) Wakefield of Spruce Grove, AB, his mother Doris Wakefield of Wainwright, AB, 9 grandchildren, and numerous nephews and nieces.
He was predeceased by his father, Charles Wakefield in 2004.
A celebration of life will be held on June 13th, 2020, details to follow