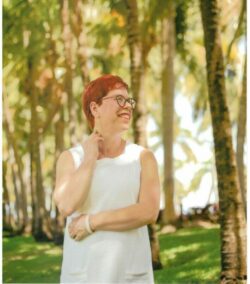 Leanne Gaye Reeb
November 30, 1970
-
May 17, 2023
In the early morning of May 17, 2023, Leanne Gaye Reeb of Edmonton passed away at home in the arms of her loving husband at the age of 52 after a valiant battle with Metastatic Eye Cancer. Leanne was born November 30, 1970, at University Hospital Edmonton to Charles (Christine) and Loretta Shobe.
After a happy childhood with her three younger sisters, Wendy, Heather, and Cathy (Mike), she graduated with honours from the Harry Ainlay International Baccalaureate Program. Leanne was intellectually gifted (it was astounding to watch her world record times playing computer, puzzle or word games). After high school, Leanne completed her Bachelor of Social Work in Edmonton where she met her future husband, Scott at a Lister Hall dance. Leanne then pursued a career in Children Services as a front-line worker and later a manager. In 2005, she earned her MBA and became the first graduate of the Public Management stream at the U of A. Leanne then worked through progressively more senior roles at Alberta Health Services, first as a frontline manager at the University, Glenrose and General Hospitals and later as an executive bringing together diverse stakeholders to craft effective policy.
Besides being able to absorb complex information quickly, Leanne was highly respected for her ability to foster collaboration and for her kindness. She also chaired several local boards including the Community Services Board and Brian Webb Dance Company. Although Leanne had a demanding professional life with too many accomplishments to list here, she always made time for her family and many hobbies.
Besides raising two wonderful young men, James (Sari) and Rene, she was a key support for her husband and his intensive business interests. Since childhood, Leanne was an avid golfer who enjoyed her weekly tradition of golfing with her two sons and with her lady's league. She also enjoyed curling, dance performance, Oilers hockey, big family dinners, card games and church. Perhaps most of all she loved travelling the world with notable trips across Canada, the US, Costa Rica, the Caribbean, Europe, Malaysia, Africa and Australia where she lived for 6 months. Leanne had unbounded energy and Joie de Vivre (yes, she spoke French). Although her fight with cancer was often bitter, she never became bitter herself and remained ever thankful to God for the amazing life she led and the positive difference she was able to make in the world. This wonderful woman will be greatly missed by her nieces, nephews, in- laws, friends, work friends, and her beloved Chip!
In lieu of flowers, Leanne requested that donations be made to the Western Canadian Ocular Oncology Fund. Visit ualberta.ca/medicine/giving to donate online OR mail donations payable to the University of Alberta to 3-501 Enterprise Square 10230 Jasper Ave Edmonton Ab T5J 4P6. Note your donation is in memory of Leanne Reeb in support of the Western Canadian Ocular Oncology Fund.
Please contact the family or Calvary Baptist Church for Funeral Service Information.