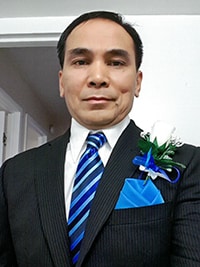 Leonard Jr. "Jhun" Espiritu
November 28, 1968 – November 16, 2018
It is with a heavy heart we say goodbye to our beloved husband, father, brother Leonardo Jr. Espiritu passed away peacefully on November 16, 2018, at the age of 49.
Leonardo Jr. is remembered by his wife Imelda Espiritu, step son John Rio Maratas, three children: Lenard, Lara and Lander, and their mother Maria Mercedes Espiritu, and four brothers: Luisito, Leonilo, Lyndon and Leo Espiritu.
He is predeceased by his father, Leonardo Sr.
The family wishes to express their sincere gratitude to the medical and nursing staff of the University of Alberta Hospital along with all the family and friends for all the love, support and compassionate care for Leonardo Jr.'s good heart, kind soul and spirit. He will be dearly missed.
Mass of Christian Burial
Friday November 23, 2018 at 1:00 PM
St. Matthew Catholic Church
13131 86 St NW, Edmonton
Interment
Holy Cross Cemetery
14611 Mark Messier Trail, Edmonton