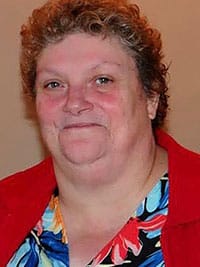 Leonor Da Conceicao Roque
On July 19 2019, Mrs Leonor Da Conceicao Roque of Edmonton passed away at the age of 63 years.
She is survived by her loving husband of 45 years Jose Carlos Roque and leaves behind her children Dennis Roque and Christine (Glen) Sylvester; Granddaughters Aleena and Isabelle Roque and Sophia Alexis; Grandsons Christian and Carson Pontes; Great grandson Braiden Coles; Sister Maria De Jesus (Jose) Fernandez; Brothers Manuel (Vera) Anastacio. Denis Moniz and Roberto Moniz. Also leaving behind numerous family and friends, aunts uncles, nieces, nephews, cousins all over Acores, Canada and the United States.
She was predeceased by her parents, Manual and Sofia Moniz and her son Michael Roque.
Leonor was born in Ribeira Seca in Sao Miguel, Acores. She moved to Edmonton as a young woman and was married Jose at 19 years of age. She remained in Edmonton for her entire adult life and raised her family here.
No dia 19 de julho de 2019, a Sra. Leonor Da Conceição Roque de Edmonton faleceu aos 63 anos de idade.
Ela é sobrevivida por seu marido amoroso de 45 anos José Carlos Roque e deixa para trás seus filhos Dennis Roque e Christine (Glen) Sylvester; Netas Aleena e Isabelle Roque e Sophia Alexis; Netos Cristãos e Carson Pontes; Bisneto Braiden Coles; Irmã Maria De Jesus (José) Fernandez; Irmãos Manuel (Vera) Anastácio. Denis Moniz e Roberto Moniz. Também deixando para trás numerosos familiares e amigos, tias tias, sobrinhas, sobrinhos, primos todo Acores, Canadá e Estados Unidos.
Ela foi predeceased por seus pais, Manual e Sofia Moniz e seu filho Michael Roque.
Leonor nasceu na Ribeira Seca em São Miguel, Açores. Ela se mudou para Edmonton quando jovem e se casou com José aos 19 anos de idade. Ela permaneceu em Edmonton por toda a sua vida adulta e criou sua família aqui.
Prayers
6:00PM Thursday July 25, 2019
Our Lady of Fatima Portuguese Church
12311-55 Street Edmonton, AB
Mass of Christian Burial
10:00AM Friday July 26, 2019
Our Lady of Fatima Portuguese Church
12311-55 Street Edmonton, AB
Interment
St. Michael's Cemetery