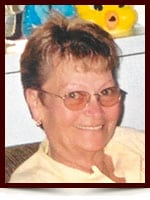 Lilian (Lil) Armstrong
In loving memory of Ms. Lillian Armstrong of Edmonton, Alberta Lillian passed away on April 7, 2015 at the age of 74. Lil was predeceased by her son James (Jim) and daughter Cindy Armstrong.  Survived by her daughter Corrie Armstrong and brother Wendell & Zena Kowalski.
Your presence in this world can never be replaced and will be missed by many.
Your smile and laughter will always fill our memories…
Memorial Service
Tuesday April 14 at 4:00 pm
Trinity Funeral Home 12134 66 Street Edmonton.
Contact Information:  [wpseo_address oneline="1" show_state="0" show_email="0"]