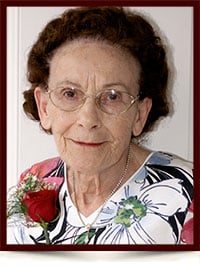 Lillian Marko (Krushinsky)
May 30, 1928 – August 19, 2016
It is with great sadness that we announce the passing of Lillian. She was born in Lake Geneva, Alberta, to Daniel and Ksenia Krushinsky.  She was the youngest of 10, with 4 brothers and 5 sisters, Peter, Steve, Mary, Paul, Anne, Nick, Nancy, Mildred, and Olga. Lillian married Nick Marko on July 13, 1957. Together they raised five beautiful children, Doyle, Della (Tim), Darrell (Andrea), Valerie, and Vivian (Marvin); eleven grandchildren, Taisa, Miranda, Taryna, Alita, Calissa, Shayla (Corrigan), Rychelle, Cheryce, Sharyiah, Emilia and Isaac; and two great-grandchildren, Rhylan and Adalyne.
Lillian was deeply committed to her family and was proud of her Ukrainian heritage. She was a fabulous cook, who would make wonderful meals and provide a welcoming home. She had a strong will, great sense of humor, stunning fashion sense and loved to dance.
Divine Liturgy
10:00 a.m., on Saturday, August 27
St. Matthew's Parish
13131  86 Street, Edmonton, AB.
Internment
Evergreen Memorial Gardens
16102 Fort Rd, Edmonton, AB.
For those who wish, donations in Lillian's memory may be made to the Capital Care Foundation (CHOICE Program Dickinsfield), 14225 94 Street, Edmonton, AB, T5E 6C6.