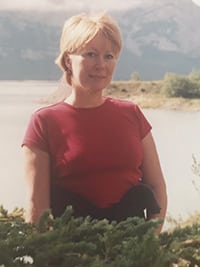 Linda McDougall
It is with the heaviest of hearts that we announce the passing of Linda Marie Ethel McDougall on May 29, 2018.
Linda was born September 22, 1960, to her father Jim Warrack, who predeceased her, and her mother, Marie Warrack, her brothers, Glen and Brent, and her sister, Debbie, who survive her.
Linda leaves behind the love of her life, her husband, Layne McDougall, her cherished daughter, Joy Gobeil, her treasured son, Jake Gobeil, her precious granddaughter, Stephanie Sitko, and her beloved children through marriage, Matthew Rollison (Tracy Hoff, Mattea & Kayla) Ashley Baylis (Steve, Noah & Hannah) and Brandon McDougall (Sarah McNeil). She also leaves behind numerous loving nieces, nephew and friends.
The family wishes to thank those who loved Linda, assisted her, cared for her, laughed with her and cried with her so that she lived a fulfilling and happy life; she was blessed beyond measure for knowing each of you and wished she didn't have to leave you so soon.
The family also wishes to thank all of those who cared for Linda at the Cross Cancer Institute during her illness.
Mass of Christian Burial
11:00AM Friday June 1, 2018
Saint Vital Parish
4905-50 Street Beaumont, AB
In lieu of flowers, the family asks that you make a donation in Linda's name to the Terry Fox Foundation www.terryfox.org.