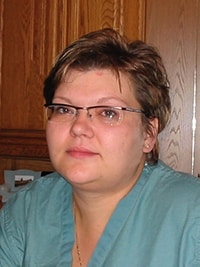 Lori Jobson
With broken hearts we are sad to say that we have lost a beautiful soul. Lori fought so hard to stay with us in this world, but sadly this was a battle she could not win.
Lori had a zest for life and lived for adventure and travel along with fun times with close friends. She packed in what she could in a life cut way too short.
Lori was born Oct 1, 1971 and was raised in a tight knit farming family in Ft Qu'Appelle. Not one to be left behind, she kept up with her older brothers whether it was following them dirt biking with her moped or taping pillows to her body to be their goalie. Lori was always the den mother for her puppies and rabbits and other pets on the farm.
After graduating high school in Saskatoon she moved to Edmonton and began work at College Copy. After awhile Lori returned to school and completed her nursing degree at NAIT. While a nursing student, Lori met Pat Stevens who became her soul mate and best friend. Together they put down roots in Edmonton. They enjoyed travelling, camping and had many adventures, always having fun being together and with their many friends they made over the years.
Lori dedicated her professional life to the Royal Alexander and the University of Alberta Emergency Departments as a registered nurse. There she made many life long friendships. She was so touched when co-workers reached out and helped during her hospital stays and gave heartfelt thanks.
Lori had a gift to get to the heart of the matter with directness and levity. There was never any beating around the bush with her. Lori touched so many lives, she had a huge heart and a generous spirit that never liked to see anyone go without and was always there to help out anyone in need. She leaves behind a void in our lives and will be dearly missed but never forgotten.
Lori is survived by her husband Pat, their two bulldogs Sherman and Olive, along with their two cats Spartan and Tuna; her mother Mariann, brothers Dwayne (Suzanne) and Dean; and nephews Tanner, Zane and Brandon; mother-in-law Noreen Bortis and many aunts, uncles, cousins and dear friends. Lori was predeceased by her father Stuart who she missed everyday.
Our cherished memories of Lori will live on forever in our hearts and souls.
Celebration of Life
2:00PM Friday September 28, 2018
Trinity Funeral Home
10530-116 St Edmonton, AB