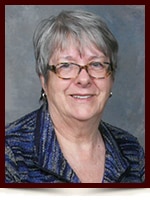 Louise Agnes Izsak
Louise passed away peacefully from this life on the morning of June 14, 2016 after a courageous battle with cancer.  She will be sadly missed by many family and friends who loved her deeply.
Louise was born in Humboldt, Saskatchewan on April 25, 1946 and shortly after moved to Regina.  Louise and Don lived in Regina together, raising and supporting their two girls.  Louise took great pride in her garden and she loved to crochet, quilt, read, travel and cook big meals.  She never turned down an opportunity to meet or go out with family and friends.  Louise work at Sasktel for over 20 years.   In 2002, upon the birth of their first grandchild, Louise and Don moved to Edmonton, Alberta .   Louise was so proud of her grandchildren. She took care of them every day and 'Nana' could often be found cheering them on, teaching them to bake cookies or pulling them in a wagon around the block.  Louise cared for her family with everything she had.  She was selfless and spent as much time as could with her loved ones.  Louise lived the remainder of her days in Edmonton doing the things she loved.
Louise is survived and dearly missed by her husband Don, her two daughters; Carey (Justin) and Jana (Clay) and five grandchildren;  Mya, Kai, Kael, Chase and Peyton.  Louise is also survived by her 10 siblings and their families and by many loving family and friends.
We take solace in the fact that Louise will live on in our hearts and in our memories forever.
Celebration of Life
Monday June 20, 2016 2:00PM
Trinity Funeral Home Chapel
10530 116 Street, Edmonton AB