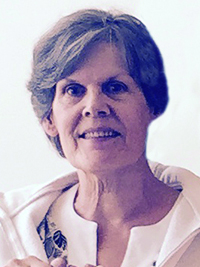 Lucy (Werkman) Thomas
It is with great sadness that the family of Lucy (Werkman) Thomas announce her passing on July 20, 2018. Lucy passed away in hospice at the age of 74, with her daughters holding both her hands.
Lucy was born in 1944, in Leeuwarden, Holland, to the late Albertus and Eleonora Werkman, and came to Canada with her family in 1955. She raised her girls in Edmonton and was a second mom to many of their childhood friends. She will be remembered always for sense of humour, love of curse words, and never-ending sass.
Lucy will be sorely missed by her daughters, Beverley Elliott (Irfan) and Jolanda Thomas, as well as their father and her dear friend, Joe Elliott.
She is also survived by her son, Cory Parent; grandson, Bonn Parent; granddaughter, Bree Jamieson-Holloway (Nick); great-granddaughters Isabella and Millie; siblings, Dini (Ed), Jon (Peggy), Tony (Amor), Henk, John (Trish) and Bill (Barb); as well as numerous nieces, nephews and their children.
In addition to her parents, Lucy is predeceased by her step-mother, Tini; her son, Hal William Thomas; and her siblings, Alex, Henny and Albert E. Jr.
We would like to extend a gracious thank you to Lucy's palliative homecare and hospice team for greatly improving her quality of life and comfort in her final days.
As per Lucy's wishes, no services will be held. We welcome all family and friends who knew her to share memories, stories and pictures here and through social media.
In lieu of flowers, donations may be made to a memorial fund at https://paypal.me/BevandJojo to support her daughters through this difficult time.