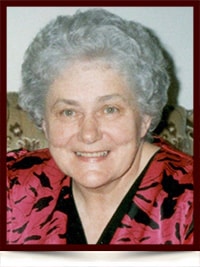 Lukodia (Katie) Knakoske
On Tuesday March 7th, 2017, Katie Knakoske passed away peacefully to be with her Lord and Savior at the age of 90.
Katie was predeceased by her husband: Fred Knakoske, father: Emil Werschke, mother: Olga Werschke, brother: Ted Werschke, sister: Hilda Werschke and son-in-law Alfred Sonnenberg
Katie is survived by her three daughters, Marilyn Sonnenberg of Edmonton, Carolyn and husband Dieter Blum of Barrhead, Shirley and husband Reinhard (Chuck) Mueller of Edmonton: eight grandchildren, 11 great grandchildren; 2 sisters, Freda (John) Eastman, Ruth Milliken; one brother Les (Emily) Westwood, all of Edmonton and many relatives and friends. Katie's cheerful nature and loving attention to her family will be greatly missed by friends and family.
Katie's favorite scripture was: Proverbs 3:5-6. "Trust in the Lord with all your heart, And lean not on your own understanding; In all your ways acknowledge Him, And He shall direct your paths."
We are comforted knowing that Katie is rejoicing for ever more in the presence of her Lord and Savior.
Funeral service will be held on Wednesday March 15th at 11:00 a.m. at Southside Pentecostal Assembly, 2821-109 St. NW officiated by Reverend Cam Milliken. A private interment will follow at Glenwood Memorial Gardens.
Donations in memory of Katie can be made to "Cuba Missions" (Bicycles for pastors) through West Edmonton Christian Assembly.