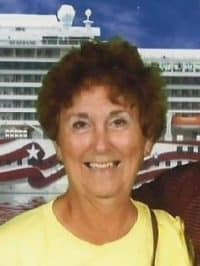 Lynda Mae Anderson (nee MacArthur)
October 9,1943 - October 26, 2019
Lynda's smile was one of a kind. She not only smiled with her lips, she had smiling eye's that made her so instantly likeable. That trademark smile made lasting friendships and wonderful memories from literally around the world.
Lynda was born and grew up in a Peace River, Alberta, graduating from T.A Norris High school.
While still in high school, she met her husband to be Al Anderson, who worked at the local radio station.
In no time, they fell in love, got married, lived in Peace River for a couple years and then moved, and lived and worked in Edmonton since 1964. In July 2019 they celebrated their 58th wedding anniversary.
Lynda loved traveling and until she lost her battle with cancer her and Al were fortunate to be able to do so. Her favorite advice to friends and family was "Do it while you can" and she did.
She was a very caring person, always ready to help others.
Lynda will be missed by her husband Al Anderson, her two daughters Lynnal Anderson and Sheri Hrdlicka(Alan Hrdlicka),
Her three Grandsons: Kelly Choma (Richelle),
Devlyn Choma(Suzanne), Austin Hebert (Colby)and two great grand children Odin and Arianna.
Three step-grand children Justin and Jenna Hrdlicka and Jayden Gosselin
And by the many friends and family here in Edmonton and across Canada, the many friends from Mesa, Arizona and those scattered across North America.
The family thanks Dr. Joy and the wonderful staff at the Cross Cancer Centre, Dr. Chris Gregson our family doctor, also Dr. Amigo and the great nursing staff at Grey Nuns Palliative Unit 43.
At Lynda's request no funeral will take place. In lieu of flowers, donations to the Cross Cancer Institute.