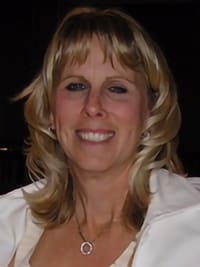 Marianne Louise Farrell-Cunningham
August 7, 1957
-
February 9, 2021
August 7th, 1957 - February 9th, 2021
With saddened hearts and cherished memories, the family wishes to announce the passing of Marianne Farrell-Cunningham, age 63. She passed peacefully surrounded by her loving family.
Marianne will always be missed and in the hearts of her loving husband of 39 years, Neil Cunningham, her children Ryan Cunningham (Rachel Maxymyshyn) and Jillian Cunningham, her brother Brian Farrell (Mary Jane), sister, Sheila Lakey (Jonathan), her many nieces and nephews, and her mother, Pat MacDonald. She will now be an Angel in heaven, joining her sister, Janice Ogilvie and father, Jack Farrell.
Marianne was raised in Edmonton, spending most of her childhood years growing up at their family cabin at Devils Lake. She graduated from Strathcona Composite High School in 1975. After high school, Marianne went to work at the Toronto Dominion bank on Jasper Avenue and 116th Street. This is where she met her husband, Neil Cunningham, having to call him regarding his bank overdraft…it wasn't about the money. They soon fell in love and were married on November 7th, 1981, spending 39 wonderful years together.
First and foremost Marianne was a dedicated wife and mother. She treasured her children Ryan and Jill, embracing every moment she had with them. Marianne always put family first in her life, supporting them through their passions and challenges.
Marianne was fortunate to be loved by so many supportive friends - she will be greatly missed by all.
Marianne is the love of our lives and she will forever remain in our hearts, we will always love her. Love You, Love You, Love You.
Private Memorial Service
2:00PM Wednesday February 17, 2021
Trinity Funeral Chapel
10530 116 Street, Edmonton, AB
To view the service live, please click here: https://youtu.be/iDRdGL3z4q0