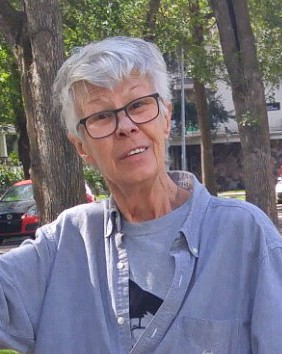 Marilee (Lee) Burnell
Burnell, Marilee (Lee), aged 70, retired long term employee of London Drugs, passed away peacefully in Edmonton after a lengthy illness December 20, 2018.
Lee was fiercely independent, despite a brain injury sustained from an MVA in 2002. She kept everyone around her on their toes with her quick wit and sharp sense of humour.
In lieu of a memorial post, her favourite poem, Funeral Blues, by W H Auden.
Stop all the clocks, cut off the telephone,
Prevent the dog from barking with a juicy bone,
Silence the pianos and with muffled drum
Bring out the coffin, let the mourners come.
Let aeroplanes circle moaning overhead
Scribbling on the sky the message He Is Dead,
Put crepe bows round the white necks of the public doves,
Let the traffic policemen wear black cotton gloves.
He was my North, my South, my East and West,
My working week and my Sunday rest,
My noon, my midnight, my talk, my song;
I thought that love would last for ever: I was wrong.
The stars are not wanted now: put out every one;
Pack up the moon and dismantle the sun;
Pour away the ocean and sweep up the wood;
For nothing now can ever come to any good.
Thank you to the incredible staff at Riverbend Retirement Community, especially to Jacquie, Joanie, Cam, Eunice and Anne Marie. Lee is survived by Paul, Dayna, Casey, Amber, Mike, Betty, Bob, Bill, Pati, and Cathi.