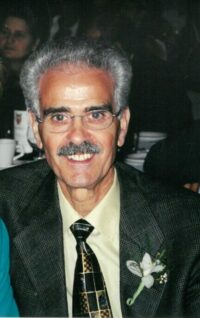 Mario Mazzotta
March 21, 1942
-
October 2, 2022
On October 2, Mario Mazzotta died at the age of 80.
He is survived by his wife of nearly 57 years, Ida; children Achille, Robert and Susan (Roberto) Guido; grandchildren Mario, Emma, Dante, Annaka, Daniella, Ayrton, Sofie and Francesca; siblings Antonio, Vincenzo (Franca), Gigliola (Giuseppe) Russo, sister-in-law Etelka and brother-in-law Brian Mott.
Predeceased by his parents Achille and Rosina, and siblings Gabriele, Chiara, Silverio and Maria Teresa.
Prayer Service
Friday, October 7, 2022, 7:00PM
St. Charles Catholic Church
17511 112 St NW, Edmonton, AB
Mass of Christian Burial
Saturday, October 8, 2022, 11:00AM
St. Charles Catholic Church
17511 112 St NW, Edmonton, AB
Interment
St. Michael's Cemetery
13819 82 St NW, Edmonton, AB
In lieu of flowers, please consider making a donation to the charities of Crohn's and Colitis Canada, 2110-439 University Avenue Toronto, ON M5G 1Y8 or www.crohnsandcolitis.donorportal.ca
or Parkinson's Canada, © Parkinson Canada 4211 Yonge Street, Suite 316, Toronto, ON M2P 2A9, Charitable Registration Number 10809 1786 RR0001