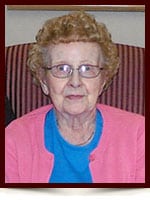 Marion "Bernice" Towpich
Feb 8, 1918- Jan 19, 2015, Age 96
Bernice was born in Halkirk, AB. Survived by daughter, Betty Kril, grandchildren, Joy Jensen, Sandra Hartel (August), Darcy (Joanne) Christiansen, Roxann (George) Nathanail. Also survived by Great-Grandchildren, April (Bob) Wiebe, Jennifer (Jay) Martinez, Steven Jensen, Colton Hartel, Janelle (Jesse) Hartel, Jeff Christiansen, Stuart (Janelle) Christiansen, Amanda (Kris) Nathanail, Danny Nathanail, Steph Nathanail, Russell Christiansen, Jocelyn Christiansen, and Great-Great Grandchildren, Dawson & Ciara Wiebe, Presley, Jessie and Dylan Martinez, Kailey Hartel, Melody Christiansen. Also survived by sister Alice Lowis, Ray (Jill) Fowler and Jack Fowler and numerous beloved nieces and nephews.
Predeceased by her parents, Gordon and Delia Fowler, daughter Myrna Roggeveen, Grandson Marty Christiansen. Brothers, Don, Jim, Harry and Gordon Fowler and sisters, Helen Yard, Marg Zankl, Dorothy Hampton and the love of her life, George Grover.
Bernice was instrumental in getting the Charter O.O.R.P. #211 in Castor in 1957.   She worked for Ray Wiart in Castor for 22 years in the Magnet Store, until she moved to Calgary in 1972. She worked for Holt Renfrew for over 10 years until retiring in 1983. She was very active in dancing, square dancing, crafts and Royal Purple Lodge. She modeled period costumes with Memory Lane Fashions for a number of years.
Thank to Good Samaritan Seniors Clinic (Dr Koe and Diane) and Unit 43 Grey Nuns for your continuing care and support during this journey
In lieu of flowers, if so desired, donations may be made to Greater Forest Lawn Seniors Centre or Alberta Heart and Stroke Foundation.
There will be a interment service at the Stettler Cemetery on May 9, at 10:00 AM
With a celebration of life to follow immediately at 10:30, at the Stettler United Church
To those I love and those who love me-
When I'm gone, release me and let me go,
I have so many things to see and do,
You mustn't tie yourself to me with tears
Be thankful for our many beautiful years!
I gave to you my love, you can only guess
How much you gave me in happiness,
I thank you for the love each have shown,
But now it's time I travelled on.
So grieve awhile for me, if grieve you must.
Then let your grief be comforted by trust.
It's only for a time that we must part.
So bless the memories within your heart.
I won't be far away, for life goes on.
So if you need me, call and I will come.
Though you cannot see or touch me, I'll be near.
And if you listen with your heart, you'll hear
All my love around you soft and clear!
And then, when you must come this way alone,
I'll greet you with a smile and say, "Welcome home"
Contact Information: [wpseo_address oneline="1" show_state="0" show_email="0"]