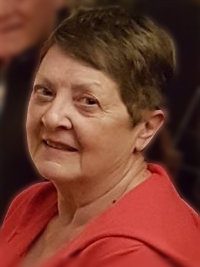 Marion Frances Palamarek
On Thursday April 2, 2020, Marion Palamarek (née Comstock) passed away in her home at the age of 74. She is lovingly remembered by her husband Bob (of 48 years), sons Damon, Justin (Tina), Toban (Bailee), and two grandchildren Cameron and Arya. Marion was preceded by her parents Philip and Elizabeth Florence Comstock, and she leaves to mourn her siblings Allen, Jim, Eleanor, and younger "Big" brother Norm.
Marion will be remembered by many as a loving, kind-hearted, and thoughtful wife, mother, teacher, and friend. Her love and talent for gardening, sewing, crafts, and baking was only out matched by her tireless and selfless devotion to those around her. Always caring for and looking after those around her was her greatest gift, as well as her defining characteristic. As one to never shy away from hard work (ie. after raising three sons), and when most might be looking forward to their retirement, Marion decided to pursue her dream of higher education. At the age of 56, she completed her University Diploma and became a Teaching Assistant where she specialized in working with students with learning, language, and physical disabilities. Marion continued this work for nearly 15 more years until her retirement. Marion's tireless devotion to her family, friends, and students will never be forgotten.
While Marion stalwartly struggled with cancer for the last four years of her life, it never defined her, nor conquered her spirit. For all the many who so lovingly supported her through this time (all the staff and nurses at the Cross-Cancer Institute and especially Dr. Smylie & Dr. Olsen to name but a few…), our family is forever grateful.
In keeping with Marion's wishes (and due to COVID 19 regulations) there will be no service. An informal gathering to celebrate Marion's life will be held at a later date.
For those of you wishing to pay your respects, Marion has asked that in place of cards, flowers, or the like that a donation be made in her honour to the Canadian Wildlife Federation.
Marion will be greatly missed by both her family and friends, but she will forever live on in our hearts and memories.
We love you Marion (Mom & Grandma).