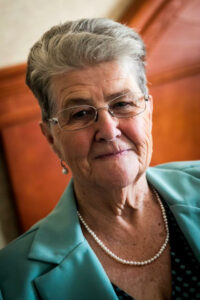 Marion Pearl Warren
July 12, 1932
-
May 2, 2022
It is with heavy hearts that we announce the passing of our beautiful & precious mom, grandmother and great grandmother, Marion Warren.  After a lengthy battle with Alzheimer's Disease Marion passed away in Edmonton, AB surrounded by her loving family.
She is predeceased by her husband Stan (2007), her son Paul (2022) and parents Stanley and Laura Legge.  As well as her siblings Allen, Lillian, Ellen, Eric, Ethel, Lloyd and Wayne.
She will be lovingly remembered and dearly missed by her children; Sons: Bob (Rowena), Scott (Evelyn) and Larry (Michelle). Daughters: Betty Butt (Austin} and Beverly Young (Gerard),
Daughter-in-law Beverly Warren; 10 grandchildren: Suzanne Inglis (Jamie), Stephen (Cheryl), Christa (Audra), Heather Paul (Rob), Melissa Highfield (Andrew), Mark Butt, Andrew Young (Veronica), Kyle, Kayla Drew (Coady), Stefan Young (Andre) and 12 precious great-grandchildren.  Also, leaving to mourn her brother; Carl Legge (Dianne) and sisters; Alma Gifford, Peggy Hefford (Fred) and Neta Berkshire (Ed), as well as, many nieces, nephews, relatives and friends.
Special thanks for the compassionate care provided by the Benevolence Care Centre.
Our beloved Mom devoted her life to her family.  She enjoyed cooking, knitting (especially for her grandchildren), camping, trouting and berry picking.  Her love of children and caring nature were always evident, even in the throes of Alzheimer's Disease.  There is one thing the disease cannot take away, and that is love.  Love is not a memory- it's a feeling that resides in your soul forever.  She will be immensely missed.
Cremation has taken place. Funeral Service to be held in NL on Saturday, August 6, 2022 at 11:00 a.m. St. John The Baptist Cemetery, Chapel Arm.  Interment to follow.
Donations in Mom's memory can be made to the Treasurer of St. John the Baptist Anglican Cemetery Fund, Brenda Whitten. PO Box 26, Norman's Cove, NL, A0B 2T0 or via e-transfer to brendawhitten5@hotmail.com.  Include the password: church