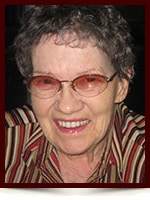 Marjorie Hanson
Marj wore many faces. She was a loving daughter, sister, wife, mother, grandma and GG.
She grew up in a loving family and was the apple of her Fathers eye. Her Mothers' love and encouragement nurtured her love of family and independent character. At age 11, when her 'little' brother Gary was born, their bond developed instantly and carried on throughout their lives.
As a young girl, Marj was an accomplished dancer, a passion that cultivated a lifelong love of music; especially jazz and Big Band music. Marj was well known for her sense of style. All her homes were decorated beautifully and she was always dressed to 'the nines' with hair done, make-up on and matching outfits-even while gardening!
She was always kind and generous to those she loved. A small example of this was the delight of young and old looking forward to her famous Santa stockings at Christmas time.
Marjories first husband Bob and Father of their five children, remained close friends throughout her life. Her soul mate and husband Gordon (who passed in 1998) was the love of her life. They shared a love of music, nature and travel. One favorite destination was Las Vegas where they married at 'The Little White Chapel' in 1969.
Your life was a life well lived, filled with love and laughter and although you are no longer here you will be in our hearts forever.
"Her heart's as soft as feathers
Still she weathers stormy skies
And she's a sparrow when she's broken
But she's an eagle when she flies"