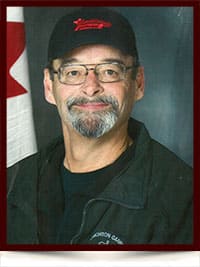 Mark Gibson
On July 22, 2016, with his loving family by his side, Mark passed away peacefully at the age of 56.
Left to cherish his memory are his son Brandon (Tanya) and 3 grandchildren; Nick, Gabe and Vance, son Steven, the Fort Saskatchewan Legion, Branch 27, to which he referred to as his second family of 18 years, and countless close friends.
Celebration of Life
Thursday July 28, 2016 at 11:00 am,
Normandy Room of the Fort Saskatchewan Royal Canadian Legion Branch #27
9964 93 Avenue, Fort Saskatchewan, AB, T8L 1N4.
In lieu of flowers, cash donations can be brought to the service and dropped off for donation to Mental Health Management.