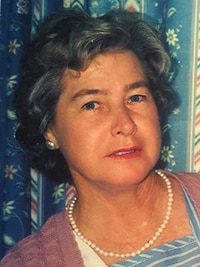 Mary Ann Wash
It is with great sadness that we announce the passing of Mary Ann Wash, 85 in Edmonton on October 28, 2018 with her family by her side.
Mary Ann was born in Wellington, South Africa and immigrated to Canada in 2013.
She was predeceased by her loving husband Walter in 1993.
Mary Ann is survived by her brother James, son Walter (Giesela) and family Christopher (Stephanie), Debra Ann and Nicholas, her loving son Peter (Tara) and family, Johnathan, Emma and Ruth and also by numerous nieces and nephews.
She was a kind, gentle and loving person and will be sorely missed by all.
Memorial Service
Friday November 9, 2018 at 1 pm
McKernan Baptist Church
11103 76 Ave Edmonton.
In lieu of flowers, a memorial donation in her honour can be made to The Heart and Stroke Foundation #1445241 Calgary Trail NW Edmonton, AB T6H 5G8