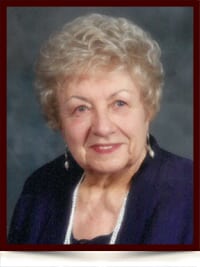 Mary Irene Nychka
On November 12, 2016 Mary Irene Nychka passed away at the age of 85 years.  Mary leaves to mourn: her husband Walter, daughter Marie Nychka (Mejia), son in law Mario Mejia, grandsons: Adam Blocka and Boyan Blocka, grand daughter in law Andrea Jacques, great grandson Zen Blocka and honorary grand daughter Nikki Hulowski.
Born in Regina, to parents Dmytro and Katie (Irene) Boyachek, Mary had a happy childhood and was active with the church, Girl Guides, and the  Ukrainian National Federation where she sang, danced, and played the mandolin.  Being an only child, she loved to visit her cousins out at "the farm" by Calder, Saskatchewan.   In high school she was an avid basketball player and earned the nickname "legs" for her agility and speed.  Upon graduation she trained as a Laboratory Technician.
When the Future Queen Elizabeth II came to Saskatchewan on a tour across the country,  the Ukrainian dance groups from Regina and Moose Jaw combined for a performance.  Walter Nychka was one of the boys from Moose Jaw.  The show was a success.
At the age of 19,  Mary was misdiagnosed with tuberculosis and spent 9 months in a sanitarium before a correct diagnosis of pleurisy was reached and she was released. Walter made regular visits the entire time.
Two years later Mary and Walter married and one year after that their daughter, Marie, was born.  In a few years the family moved on to Calgary and then eventually to Saskatoon where they were very involved with various Ukrainian organizations.  Mary passed on her love of music and dance to her daughter and spent many hours sewing costumes and supporting her training and dreams.  When Marie left home, Mary and Walter moved back to Calgary where they worked tirelessly for St. Vladimir's Ukrainian Orthodox Church.  Mary was instrumental with the building committee, the museum, and the gift shop at the church where she worked for over 20 years.  Eleven years ago Mary and Walter moved to Edmonton to live with Marie and her husband, Mario.
Mary loved her family, her friends, her Ukrainian culture, and her God.  Her beautiful smile and strong spirit will be greatly missed.
Prayer Service 
Thursday, November 17  7:00PM
St. Andrew's Ukrainian Orthodox
9831 75 Street NW, Edmonton
Divine Liturgy
Friday, November 18  11:00AM
St. Andrew's Ukrainian Orthodox
9831 75 Street NW, Edmonton
Вічная Память