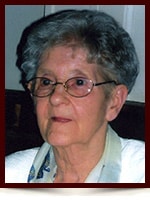 Mary Jackson
Mary Jackson of Edmonton, AB, formerly of Kent, England, passed away peacefully on October 24, 2012 at the age of 77 years.
She is survived by her brother Bill Hoskins and sister Lillian Botto, her sons Garrett, Trent, David (Peg) and daughter Loreen (Ron) plus many grand children and great grand children.
Many heartfelt thanks to the doctors and staff at St. Josephs Auxiliary Hospital for their care and compassion. In lieu of other tributes, donations may be made to the charity of one's choice.