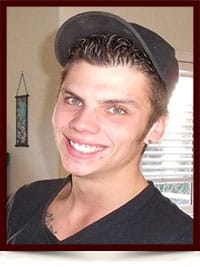 Matthew R.W. Pelley
Matthew Robert Wilson Pelley, 26, went into the arms of the angels on Wednesday, October 5th , 2016.
Matt was born January 29, 1990 in Edmonton, AB.
He was an inspiration to all of his friends bringing brightness, joy and optimism.  Matt especially loved to cook and experiment with food.  Preparing and providing wonderful meals for friends and family was one of his greatest pastimes.  His work was primarily construction, or anything outside because he couldn't imagine being stuck in the confines of an office but his extra- curricular was quieter and calmer, researching and determining the meaning and purposes of life.  He also enjoyed drawing and encouraging others to pursue their creative aspirations. Generous above and beyond, he would give the shirt off his back if he felt the next man needed it more than him.  Matt loved as he felt, very deeply.  His brightness, his smile, his warmth and his acceptance of anyone genuine were just a few of the things he brought to our world.  Many, many were blessed with experiencing the love of the wonderful man known as Matthew (with 2 T's), Mattie, Mattie-P and Buddy-D.  He will be missed dearly by all who knew him.
Matt is survived by his Mom Gloria Riopel-Mantei, Step Dad Armin Mantei, Step Brother Dan Mantei, Step Brother Mark Mantei & Mark's wife Billie Mantei and their daughter Alyssa Mantei, Dad Dennis Pelley and his Step Mother Arlene Pelley, younger half-brother Daynen Pelley,  Grand Parents Gloria & Bob Riopel, Step Grand Father Irwin Mantei, and many, many aunts, uncles, and cousins.  Predeceased by his Nan & Pops (Bride & Wilson Pelley), Great Gram's 'W' (Ina Williams), and Great Gramma 'A' (Simone Anderson).
Memorial Service
Thursday, October 13th 2:00PM
Trinity Funeral Home Chapel
10530 – 116 Street, Edmonton, AB.
In lieu of flowers we ask that you consider contributing to Hope Mission, in Matt's name.