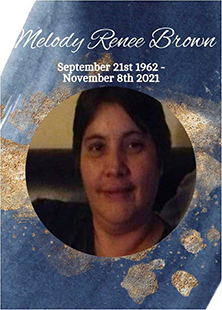 Melody Renee Brown
September 21, 1962
-
November 8, 2021
Melody Brown's zest for life will forever be remembered with love long after her passing.
Melody passed away on November 8th 2021 after a courageous battle with cancer, surrounded by loved ones near and far who will strive to honor her memory by living their lives to the fullest.
Melody was predeceased by her Parents Evelyn and Rene Cadieux, Sister Melissa, Brother Kenny, and Nephew Travis.
Melody is survived by her Husband David Brown, Daughter Courtnay, Sisters Donna, Norine, and Tina. Her Brothers Roger, Tommy, and Rene JR. She was a proud Great Auntie to many Nieces and Nephews. Her silly jokes and bright smile will be dearly missed.
Forever Alive In Your Heart
I am not truly gone,
If you keep me in your heart.
I'll forever be alive,
And we will never have to part