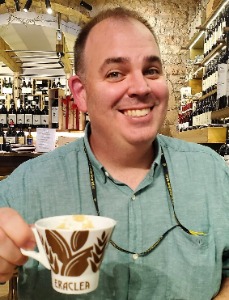 Michael David Dubreuil
December 17, 1976
-
December 22, 2022
It is with disbelief and great sadness that we announce that Michael David Dubreuil, 46, of Sunrise Beach AB, unexpectedly passed away on December 22nd, 2022, surrounded by loved ones, after a brief battle with cancer.
Mike was born on December 17th, 1976, to Buzz (John Wayne) and Sheila Dubreuil (McQuaid) in Flin Flon MB. After Mike graduated from Hapnot Collegiate in Flin Flon MB, he attended both the University of Manitoba and Red River College in Winnipeg MB with a focus on Business.
After graduation, Mike explored different careers until finding his calling in Recreation and Community Services and Development. Mike started as a Recreation Director with the City of Flin Flon where he was excited to be a part of growing and developing recreation facilities for his hometown. For the past 7 years, Mike has worked for The Town of Gibbons as the Director of Recreation and most recently as the Assistant Chief Administrative Officer. Mike was passionate about the growth and success of the community who embraced him as family.
Mike was married to the love of his life, his soulmate, (his lobster) Carrie, in July 2005. They have one child, Austin (23), who is successfully navigating his way through life and love and who Mike was incredibly proud of. They also have two dogs, Mackenzie & Clyde. Mike was a lifelong dog lover who believed in fostering, adopting and supporting local rescue agencies resulting in several foster failures through the years. Mike was also an avid foodie and traveler who loved adventure, exploring new cultures and experiencing life to its fullest.
He is survived by his wife, Carrie Dubreuil (Atkinson), and his son Austin Dubreuil (Brieann Sylvester) as well as his mom Sheila, brothers Tim (Shawna) Dubreuil, Tom Dubreuil, and niece & nephew Kennedy & Eric Dubreuil. Mike was predeceased by his dad Buzz Dubreuil.
A Celebration of Life will be held at a later date.
In lieu of flowers, please consider a donation to The Sarcoma Cancer Foundation of Canada or donating blood to Canadian Blood Services.