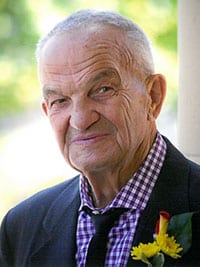 Michael Ference
On February 16, 2021 Mr. Michael Ference of Edmonton, formerly of St. Paul, AB passed away at the age of 95 years.
He is survived by his beloved wife of 69 happily married years, Olga; 3 sons and 1 daughter, Marshall of Grande Prairie, Ron (Sherri) and Henry (Marnie) all of Calgary, and Debbie (Claude) of Edmonton; 9 special grandchildren; 9 great grandchildren; sister, Mary Lychak. He was predeceased by his daughter in law, Linda; his parents, John Sr. & Mary, brothers John Jr, Peter, Joe, Bill, Steve, and sister in law Sophie.
A private family service will be held by Reverend Father M. Planchak and Reverend Father M. Sych officiating with internment in Holy Eucharist Ukrainian Catholic Cemetery, Elk Point. No donations desired.