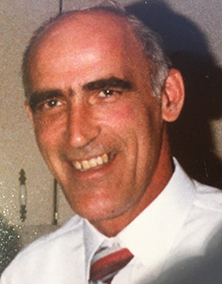 Michael (Mickey) John Murphy
November 11, 1937 – June 27, 2020
Mickey Murphy, (Michael John Murphy b. Nov 11, 1937) lived his life with gentleness and kindness. He loved his wife Jeannie and even amid his living with Alzheimer's he remembered and looked out for her until the end. Together, Jeannie and Mickey enjoyed taking evening drives, ice cream out and volunteering. He was a devoted father to his children, Mary, Suzanne, and Heather and adored his grandchildren, Emma (David), Fin, Zoe, Rowen, Gabe, Ethan, and Brooke. He could not meet his great-granddaughter, Miriam but enjoyed looking at her picture, and he was saddened with the death of his first great grandchild, Aaron. He had great respect for the son's in laws Pierre, Slade and Wayne and loved them dearly and welcomed them warmly into the family. (We suspect he was happy to have some men around for solidarity sake).
Mike and Freda Murphy raised Mickey to be a thoughtful and gentle human being. His sister Pat was someone he called his best friend. His loved his nephews Ron, Dan, Darryl and nieces Laurie, Deb, Lori, Teri-Lynn and Brandi were never far from his mind or heart. His sister- in law Dianne was like his sister and they shared many laughs together. Though he had moved from Thunder Bay, Ontario in the 70's it was always his home. His many aunts, uncles, and cousins of the Kannegieser, Murphy, Kavanagh, Creighan and Gudmundson clans were always thought of and sought out when he visited, along with friends who remained in Thunder Bay.
Dad loved his neighbours on 95 avenue. It was a very sad day, when he had to move from his home and away from the people he knew. The neighbours' care for him and Jeannie, as his Alzheimer's worsened, will always be an example to our family of neighbourly love. There were so many little things that their neighbours did that were unseen, but so helpful. Shovelling, closing open garage doors, calling to check in and dropping by for repairs but mainly being that daily smile, wave, and brief conversation on the street. Their love and care made his life safe and more doable as his health declined. THANK YOU!
Rick was dad's companion and most importantly his friend. Rick's visits, drives and coffee breaks brought dad meaning in a time when his world was becoming smaller. There was a sense of normalcy that Rick would bring in his visits and dad would find comfort, solidarity, and support. Sometimes guys just need that guy where they can put their burden down and just be present. Rick was that guy. Thanks Rick, the joy dad had in your visits could never be matched.
Dad loved sports and coached baseball teams when he was younger. He would often train with Suzanne and Heather as they practiced. We all remember that first hard ball dad through into our new gloves and then realized it was only a gentle throw!  Dad was always present at games, to drive us where we needed him most, and be present at all events. Babysitting grandchildren was his secret love, though he did not talk about it much. He was a baby whisperer.
Dad enjoyed working with his colleagues at CP Express and called many there his friends. He was in a life changing train wreck when he was 18, and that was a defining movement for him, as he and his crew mates almost died.
His charity of choice became the Boyle Street Christmas Dinner held at Sacred Heart Church and run by Lorne Hooper and the team of dedicated volunteers. He worked hard through the year to gather supplies, donations and anything that needed to be done to make that day special.
In his mid life, anxiety had become a health issue. He did not talk about it and it was not something, we as a community, discussed openly at that time. It limited him, but when he finally found some help, he shared that wisdom when he could.
We daughters are grateful for the care he received at Villa Marguerite and Lifestyle Options Whitemud in the butterfly unit where he had the opportunity to play pool which he managed with their help, danced, and sang. We are grateful for the staff and his stay at Extendicare Holyrood. But, in this journey of care, his home became Sherwood Care, where the staff, family members of other residents , volunteers, and programming created moments of joy, meaningful activities and a space for him to be Mickey on his good days,  on his  bad days, and all days in between. The community of Sherwood Care made all the difference for this last year of dad's life. Thank you to the pastoral carte team of Our Lady of Perpetual Help who diligently prayed with and for dad, and kept connected with him during this last year, even during COVID through letters.
Thank you to the Care Team at Sherwood Care for your laughter, your prayer, your patience, and your attention to the details that matter. During this time of Covid-19 and our need to keep each other safe, Sherwood Care also strove to keep the hearts of their residents as nourished as possible. Your compassion for our family at this time and especially my mom has been appreciated and I know my dad felt safe and cared for as he held your hands near the end and you took time to make him comfortable and feel loved.
If anyone reading this is touched please know that these assisted and long-term care workers are doing so much. The staff are going above and beyond and when we find wearing a mask a struggle, on our brief shopping trips, they wear these masks throughout their shifts, they must wash and care for their hands more often than we can count and they carry the presence of love for us their family to those most vulnerable, their own families and then themselves. Please wear your mask, please take time to be patient in this time of global challenge and please be kind.
If anything, our dad lived to be kind. It takes just a second to wait, to hold a sharp word, to think of the other person. Dad's kindness was in the ordinary events of life and he did much good when no one looked, or behind the scenes.
Donations of time or money can be made to a long-term care facility of your choice or to do something special for your neighbour.
The memorial service will take place on July 27 at 3pm at Our Lady of Perpetual Help Parish In Sherwood Park 13 Brower Dr. Sherwood Park.
With Covid protocols in place please register your attendance with Mary Murphy by text or phone at 587-937-7091 or by email marykmurphy@outlook.com